Lisa Schwarz | Product Marketing at NetSuite | June 21, 2023
Enterprise resource planning (ERP) systems play a pivotal role in helping businesses achieve operational efficiency. By integrating core business functions in the form of individual components into a single, unified platform, an ERP helps provide a real-time view into the business while supporting day-to-day processes and workflows. This article examines eight main components of ERP systems and how each one contributes to streamlined operations, better data management and closer collaboration — plus some additional features common to ERP systems and how they can be leveraged to further enhance operations.
What Are ERP System Components?
ERP system components, also known as modules in modular ERP systems, are specialized applications that handle specific business functions. They're the building blocks of a centralized ERP system database, designed to seamlessly work together to provide a comprehensive view of an organization's data and processes. Rather than relying on separate software for different departments, an ERP system integrates the various components into a single platform so that all stakeholders are analyzing the same information.
Common ERP components include accounting and financial management, human resources (HR), customer relationship management (CRM) procurement and supply chain management (SCM). Each component collects data from and supports the processes of its respective business department. The ERP system then consolidates and centralizes data from these discrete modules. This unifies business data to improve end-to-end business coordination, enhance organization-wide efficiency and support decision-making.
Key Takeaways
ERP system components, also called modules, are versatile building blocks of a centralized ERP system database.
These components are dedicated to discrete business functions, including HR, CRM, procurement, manufacturing and logistics management, and warehouse management.
Modular ERP solutions allow businesses to add and remove ERP components according to their needs.
ERP components plug into the ERP system to create a single source of data that helps businesses streamline workflows, save time and boost profitability.
ERP Systems Components Explained
Each component of an ERP system is designed to address a distinct business function. Components, which can be thought of as subsystems, plug into a central database and work together so that every department has access to the same real-time data and visibility into their performance. Accounting and financial management components, for example, assist in planning, budgeting and financial reporting. HR components simplify workforce management and HR services. CRM components improve client and prospect interactions and drive sales growth. Other key components include business intelligence (BI), SCM, manufacturing and logistics management, inventory management and warehouse management.
All-in-one ERP systems come packaged with a full suite of components, such as those mentioned above. This approach may be useful for mature businesses ready for a comprehensive solution. Modular ERP software, on the other hand, offers greater flexibility by enabling businesses to select and combine only the components — or modules — relevant to their needs, operations and challenges, and then scale over time. A medium-sized ecommerce company, for example, might prioritize inventory management and warehouse management, whereas a small service-based organization might focus on CRM and project management modules.
With the right mix of ERP components, businesses can create an ERP system tailored to meet their unique needs and goals.
8 Main Components of ERP to Know About
Any business looking to harness the full potential of an ERP system to meet its goals and drive business performance should have a solid understanding of ERP components. Here's a look at eight core ERP modules and how they assist businesses by simplifying processes and offering extensive, real-time insights.
Accounting and Financial Management
Serving as a centralized platform for managing all financial activities, accounting and financial management is generally considered to be the most important component of an ERP system. Within this component are tools that businesses can use to track, store and analyze various financial elements, including accounts payable (AP), accounts receivable (AR), the general ledger (GL), budgets and forecasts. In some cases, an accounting and financial management module can also perform advanced tasks, such as tax management, fixed assets management and multicurrency reconciliation.
Given the interconnected nature of an ERP system, the accounting and financial management component can integrate with other core ERP components to provide accurate, business-wide financial information — a key consideration given the fact that financial leaders need to track and use data from various departments to make informed decisions about cash management, funding sources and financial controls.
An ERP system also simplifies the complex process of managing, organizing and planning finances by handling tasks like billing and invoicing, revenue recognition and financial reporting. In doing so, manual data entry is minimized, decreasing the likelihood of errors and letting employees focus on other tasks — like closing the books on time. Additionally, financial planning and analysis teams will have up-to-date financial data to prepare key reports and financial statements.
Human Resources (HR)
Human resources, or human capital management (HCM), is essential to managing a business's workforce. The HR component of an ERP system offers tools that streamline HR tasks, such as recruitment, hiring, employee management, performance evaluation and payroll processing — the last of which may also be part of the financial management component, depending on the ERP provider.
More specifically, HR modules play a vital role in centralizing and maintaining employee records and benefits information, as well as tracking hours worked, paid time off and sick days used, among other pertinent employee details. This consolidation of data eliminates the risk of duplication or errors common to disparate spreadsheets and software.
A well-rounded HR component also enables businesses to organize and optimize their workforces by enabling HR departments to transition from solely focusing on administrative tasks to acting as strategic business partners. For example, a business can tap into employee performance metrics to identify opportunities to improve engagement or productivity and even nurture employee growth. Additional strategic HR functions could include workforce planning and succession planning, two business processes that ensure the right employee is in the right position at any given time. Both rely on analyzing HR data, from current employee demographics to forecasted staffing needs — all of which is made easy with the real-time and historical data collected in an ERP system.
Customer Relationship Management (CRM)
The CRM component of an ERP system collects, organizes and analyzes customer and prospect information, such as contact details, sales history and service records, in one centralized repository. This data can then be used to enhance interactions with customers, improve relationships, automate key processes and provide important insights. It can also be fed into other ERP components, such as accounting and financial management, or combined with additional features, such as sales order management and marketing management.
For example, sales and marketing teams can use the CRM component to access real-time customer information to shape their understanding of consumer behaviors or sales patterns. The component can also highlight areas in need of improvement — for instance, if there's an influx of negative reviews or support tickets. This increased level of customer awareness supports business-to-client relationships, boosting trust, supporting customer satisfaction and ultimately leading to higher profitability. Like a standalone CRM System, the CRM component can also automate tasks, such as managing leads and monitoring the sales pipeline.
Meanwhile, customer service representatives can use the CRM component to access each customer's full history, which helps them better respond to service requests. Support tickets can be automatically assigned to available representatives, with progress and resolution times automatically tracked. This aspect of a CRM module can ensure the business addresses customer concerns promptly, again leading to higher customer satisfaction and increased brand loyalty.
Business Intelligence (BI)
A business intelligence (BI) component makes it easy for businesses to analyze large volumes of raw data from various sources within an ERP system, from financial management to warehouse management and everything in between. This broad perspective enables them to track correlations and dependencies among different aspects of their organizations to support organizational alignment. Decision-makers can then draw upon the real-time financial and operational insights and trends to make faster, smarter decisions.
Ideally, the business intelligence should go beyond historical reporting by incorporating predictive models and analysis so that businesses have a complete view of past, present and potential future performance. Resulting data is then automatically processed and presented in a meaningful, accessible way. Using an ERP system that supports BI dashboards for example, decision-makers can quickly access visual representations of key performance indicators (KPIs) and other relevant metrics and data needed to run the business. Simplified data analysis combined with clean, clear takeaways make it easier to detect areas of concern, paving the way for companies to proactively adapt to potential changes and maintain a competitive edge.
BI can also provide valuable insights into customer behavior, market trends and competitor performance, for instance. This information can then be used to inform marketing strategies and product development — with the end goal of improving customer satisfaction and business growth.
Supply Chain Management (SCM)
Supply chain management encompasses all of the activities involved in turning raw materials into finished products and delivering them to partners or customers. In an ERP system, an SCM component tracks the movement of materials and goods throughout the supply chain, from procurement to last-mile delivery. SCM components can also manage product returns, refunds and replacements.
Since supply chain management is such a broad field, ERP systems may divide SCM into several more specific components so that companies have more granular control. For example, the SCM component of an ERP system might include specialized tools for procurement, manufacturing and logistics management, inventory management, warehouse management and even order management.
In a modular environment, companies can activate the components most relevant to their supply chain needs. Businesses with a dedicated purchasing department, for instance, can leverage a procurement module to track vendor performance, automatically process invoices and manage purchase requests and POs — all in one centrally managed system.
Manufacturing and Logistics Management
Although manufacturing and logistics management may fall under the wider topic of supply chain management, it's a common component of an ERP system. For example, ERP systems generally offer some type of manufacturing operations management software, such as production management systems, demand planning capabilities or third-party logistics managers. These tools help manufacturing teams plan and monitor production runs according to forecasted requirements, manage product assembly and quality assurance, plan and track distribution, and monitor the fulfillment process through delivery.
For manufacturers, one use case for such a component is to ease the creation of a bill of materials (BOM)— essentially the "recipe" for making a product. Manual BOM prep and management is prone to errors, especially for products that are composed of hundreds of parts, or for companies that manufacture hundreds of products. The manufacturing component of an ERP system, however, can automatically generate BOMs based on product designs, reducing errors and the time it takes to move from the design phase to production. Companies can create standardized BOM templates that all follow the same structure and format, making them easier to understand and work with. And any changes to BOMs can be tracked in real time — with version control.
Inventory Management
The inventory management component of an ERP system also falls under the greater SCM umbrella, but with a focus on helping companies optimize inventory levels and minimize excess stock. Real-time inventory data is leveraged to provide greater visibility and control over item quantities, locations and even the performance history of various raw materials or stock-keeping units (SKUs). Heightened awareness informs purchasing and reordering decisions, which can cut carrying costs and prevent stockouts.
By integrating financial data and data from suppliers, warehouse operations and manufacturing processes, inventory management modules offer decision-makers a more comprehensive look at metrics like cost of goods sold (COGS), inventory turnover rates and shrinkage. These analytics can inform decisions about how to improve inventory efficiency to enhance profitability.
In addition, inventory management modules can often automate replenishment, cycle counts and demand forecasts — all of which can tighten inventory controls while reducing human error.
Warehouse Management
Similar to inventory management, warehouse management encompasses processes associated with storing, reordering and managing stock. The difference is that warehouse management focuses on the movement of stock, whereas inventory management looks at inventory from a high level. In an ERP system, the warehouse management component aims to streamline the organization, storage and movement of products within a company's warehouse. Key factors addressed by warehouse management modules include warehouse layout, material handling and labor productivity.
Incorporating a warehouse management module in an ERP suite enables businesses to run their warehouses more efficiently, reduce costs and fulfill orders faster. Specifically, warehouse-related modules can analyze warehouse operations data to identify bottlenecks and inefficient processes, such as poor or disorganized warehouse layouts that increase worker travel time. These data points can give companies ideas about how to optimize warehouse processes and minimize waste.
Warehouse management modules can also inform core warehousing operations, such as receiving, put away, picking and packing. As a result, warehouse employees can better locate, move and track goods throughout the warehouse. Goods are then packed and shipped, boosting warehouse productivity and enabling customers to get their goods sooner.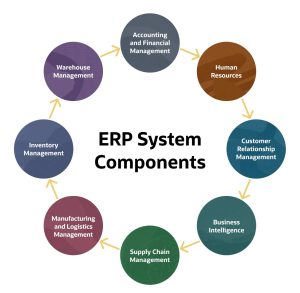 The main components, or modules, of an ERP system work together to provide a comprehensive view of the business. 
Other Features
Although the preceding eight components are common to most ERP systems, supplementary ERP features, such as risk management, marketing management and advanced planning and forecasting capabilities, can significantly enhance a business's operations and decision-making capabilities.
Event Management
Event management, or workflow management, refers to the ERP system's ability to support and streamline a variety of key business processes, also known as "events." More specifically, a sequence of tasks or steps are automatically tracked and monitored; when a task is accomplished, the next operational step is triggered until the workflow is complete. It's important to note that an "event" refers to a particular business process or operation, not a social gathering such as a conference or trade show.
Events and tasks managed within a workflow will depend on the business's requirements and can be automated or conducted manually. With event management tools, it's possible to create customized workflows that automate processes, such as sales discount approvals or purchase order requests, while adhering to any required stipulations or conditions. For example, say a purchasing agent creates a purchase order to acquire raw materials. The agent enters the PO information in the ERP, which triggers the system to alert the approval manager, who then approves the request. The PO is then automatically released to the vendor and the procurement system is updated to reflect what's on order, in real time.
With workflows that automatically outline, schedule and approve tasks within the ERP system, the need for forms and paperwork is eliminated. This reduces manual error and increases employee productivity by cutting the time spent on manual review.
Risk Management
In ERP systems, risk management often refers to a feature set within the accounting and financial management component. This might include governance, risk and compliance (GRC) capabilities that automate and strengthen financial controls, detect and reduce fraud and ensure regulatory compliance. Customized financial workflows, for instance, can be set up to enforce approval processes — with each step recorded and monitored to augment auditing capabilities.
Risk management can also refer to other features that help a business identify, assess and mitigate different types of risks, including operational and strategic. Ultimately, these features are designed to safeguard an organization's assets, reputation and long-term success while enhancing resilience and stability.
Sales Order Management
Sales order management intersects with several core ERP components, including accounting and financial management, CRM, inventory management, warehouse management and logistics management. When integrated, order management features can improve collaboration among discrete business departments. And when real-time data is shared across the organization, sales, operations and finance teams can work together to better meet customer demands.
Order management features also play a key role in streamlining the order-to-cash process, meaning the steps between order placement and payment. This includes capturing and fulfilling orders, invoicing and financial reporting and analysis. Automating the order-to-cash cycle with an ERP solution can boost cash flow while enhancing customers' ordering experiences. Sales order management features also handle other tasks, such as pricing, discounts and tax calculations.
Ecommerce
ERP systems that offer B2B or B2C ecommerce features can generally automatically feed online orders into the ERP, as well as various components within the ERP (such as CRM, inventory management and warehouse management). The customer record is automatically updated in the CRM, inventory is updated in real time and warehouse management tools update to prepare the appropriate fulfillment workflow.
An ERP-integrated ecommerce platform therefore simplifies order processing, eliminating the need for manual data entry, reducing the risk of human error, saving time and getting orders to customers sooner. Ecommerce features can also clue companies into customer preferences, shopping behavior, cart abandonment rates and sales trends — metrics that can all be used to make more informed decisions about how to boost customer engagement.
Marketing Management
Marketing management, or marketing automation, link the company's marketing efforts with its overall business strategy. These tools cover various marketing activities, such as campaign tracking, lead management, marketing segmentation and analytics. A centralized marketing management system within a unified ERP environment amplifies the business's ability to measure campaign performance, allocate resources and identify ways to increase their return on marketing investment. When integrated with CRM or financial applications, for example, businesses can directly measure the revenue generated by each campaign based on sales data managed by the ERP system.
A key function of marketing management is to automatically organize and analyze customer data, which helps the company detect market trends, target the right demographics and make decisions that will improve customer engagement and brand loyalty. For example, email campaign and social media advertising activities can be tracked and analyzed to determine effectiveness and highlight potential ways to drive sales.
Advanced Planning and Forecasting
ERP systems usually offer advanced planning and forecasting features — for example, to better predict the materials required to conduct a production run. By analyzing historical data, applying advanced algorithms and running simulations enabled by these features, companies can make more accurate predictions and plan for demand. This supports the ability to acquire raw materials, manage inventory and adjust production schedules and resource allocation to match demand.
Accounting and financial management ERP components might also offer advanced financial forecasting, budgeting and planning capabilities. In this case, the focus of advanced planning capabilities shifts from production prep and toward creating more accurate long- and short-term financial plans that support financial analysis and performance.
Data Management Best Practices
Establishing best practices is key to making data management a success in your organization. It is important to understand that this is a business project with IT support — not a project that's driven by the IT group. IT-driven data management projects usually offer limited value because technology professionals lack business users' deep understanding of the organization's data.
Define your goals.
Since you can't reach your destination if you don't know where it is, the first step on your data management journey is to set goals for what you want to achieve. Defining goals helps determine the processes you will use for collecting, storing, organizing, categorizing, risk-profiling, maintaining, cleansing, securing and analyzing your data. Clearly defining your goals also ensures you're only managing the data you really need.
Make a plan.
Once you have firmly established your goals, develop a plan of action. The first step is to identify and gather input from people throughout the business who really understand the data that their department uses — and what it needs. This will help you build a data management plan that includes calculating data usage estimates, setting accessibility guidelines, determining approaches to archiving, assigning data ownership and stewardship and much more. As time goes on, the plan will serve both as a reference guide and a living document that evolves as your data needs change.
Maintain data quality.
Data is constantly changing. Customer and vendor addresses are a classic example. If a customer or vendor changes their location, you need a mechanism to allow them to update their address — or better yet, a mechanism that notifies you of the change and updates your systems automatically. As you can probably imagine, many other changes frequently occur in a living system, and it can require a significant amount of effort to ensure that data remains accurate.
Secure your data.
Data security is of paramount importance to all organizations today. When threat actors infiltrate an organization, they typically try to steal, corrupt, delete and/or encrypt data in order to force the company into paying a ransom. Data management plays a key role in protecting the organization's vital information. It gives you a better understanding of your data, so you can selectively apply stronger levels of control and isolation to your more sensitive information. But remember that security is an ever-evolving target, and static approaches to security policies will be quickly out of date. It's important to continually monitor the latest threats and determine whether you need to adjust your security strategy accordingly.
Create a data management function.
Data in even a midsize organization is complex, and no single person can understand all the company's data to the level needed to manage it. That's why it is important to build a data management team that includes people who have a good understanding of the data as well as the organizational knowledge to know who is responsible for the data within each department. For a successful data management initiative, you need people who understand the business and the data that business groups produce and consume. A cross-functional data management team allows you to gather best-in-class practices and build synergies within your organization.
Benefits of ERP Software
The benefits of an ERP system are manifold and can have significant positive impacts on nearly every aspect of a business. With added time savings, streamlined workflows, improved profitability and easy access to expert knowledge, ERP systems and their individual components work together so companies can thrive. An ERP:
Saves time: ERP systems automate tasks, consolidate data and provide real-time access to information. Instead of wasting time tracking data across spreadsheets or disparate systems, employees can quickly and easily access information from a centralized database. Automated processes, such as invoice generation or payroll management, reduce manual errors and time spent on administrative tasks, freeing up employees to focus on more strategic or revenue-generating activities.
Streamlines workflows: ERP systems standardize processes by bringing together all business functions in one unified platform. Countless workflows can be tailored to a business's needs, with data pulled in from various parts of the organization. Further, this level of integration increases collaboration and communication across teams, which in turn enhances decision-making, reduces redundancies and enables employees to work together toward common business goals.
Improves profitability: ERP systems help boost profitability by providing greater visibility into not only financial data, but data across the entire organization. This comprehensive view makes it easier to quickly identify areas of high expenses and spot inefficiencies to support data-driven decisions that can positively impact the bottom line. For example, access to granular information about production costs, sales data, customer trends and inventory enables businesses to make more strategic pricing, marketing and product development decisions — ultimately boosting margins.
Frees up expert knowledge: ERP systems free up expert knowledge in two keyways:

By automating tasks and consolidating data, ERP software saves experts time spent on tedious administrative tasks so they can spend more time-sharing valuable knowledge and insights with the organization. This free flow of expertise can lead to more innovation, collaboration and a better sense of alignment across the company.
With BI modules, ERP systems make real-time data accessible to anyone in the organization. For example, data dashboards that clearly present key metrics help democratize information; what once required business analysts is now automated and can be made accessible even to line employees. Expert knowledge can be more easily shared across departments, informing decisions and supporting business performance.
Increase Efficiency and Profitability with NetSuite
NetSuite Enterprise Resource Planning (ERP) is a comprehensive, modular solution that unifies various business functions in a single platform that ensures seamless integration and a holistic overview of business operations. With automation capabilities and real-time data accessibility, NetSuite ERP supports workforce productivity and gives employees more time to focus on value-added tasks.
Growing and established businesses alike get access to NetSuite's core platform, which includes accounting, inventory management, order management and tax management capabilities, as well as the wide variety of components mentioned above. Companies can pick and choose the modules that fit their needs, making it easy to scale on the fly. Further, all NetSuite modules share a common database. This provides leaders with a full view of the business, in real time, any time.
ERP components are the various modules or subsystems that make up an ERP system. Common components include accounting and financial management, CRM, HR, SCM, business intelligence, warehouse management and inventory management. Each component is designed to address a specific business function, but they all work in harmony to create an integrated, comprehensive system. This integration eliminates data silos, improves data accuracy and provides a real-time view into business operations, supporting decision-making, increasing efficiency and cutting costs.
---